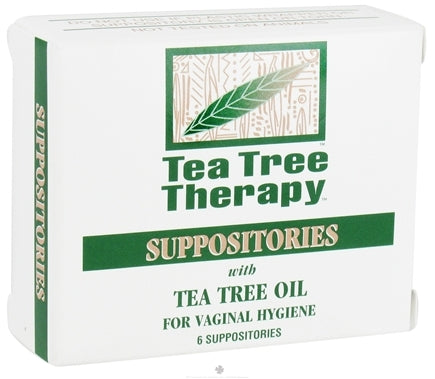 Tea Tree Therapy Vaginal Suppositories with Tea Tree Oil, Pkg of 6
Save

$0.00
Save

$-10.40
Original Rental price
$10.40
-
Original Rental price
$10.40
Tea Tree Therapy - Suppositories with Tea Tree Oil - 6 Pack(s)
Tea Tree Therapy Suppositories with Tea Tree Oil are a natural way to provide vaginal hygiene. Tea Tree Therapy Suppositories with Tea Tree Oil allows the body's natural defenses to regain control when the system has become unbalanced. Tea Tree Therapy Suppositories with Tea Tree Oil are designed for the purpose of relieving vaginal pruritis (inflammatory conditions), and containing the spread of vaginal infections.
About Tea Tree Therapy All Tea Tree Therapy  products are made only from the species "Melaleuca Alternifolia." Considered by many users to be most theurapeutic of the 100 and more varieties of tea tree plants. In addition all Tea Tree Therapy Products are made with 100% Pure Therapeutic grade antiseptic essential oil Terpinen-4-ol min 36% Cineole Average -3%. A higher standard than mandated by the Australian goverment for Tea Tree products.
Tea Tree Oil, "First Aid Kit in a bottle"
There are many other uses for tea tree oil:
A natural deodorizer. Add a few drops of tea tree oil to your wash to help deodorize clothes to get rid of odors. 

Add a few drops of tea tree oil to your household cleaning solution. Will help repel insects. 

Tea tree oil has a deodorizing effect when added to cleaning solution. 

Helps disinfect areas that may harbor bacteria and viruses.
For vaginal hygiene insert one suppository daily for six consecutive days. Suppositories may be used morning and night for up to 12 days in severe cases. For maximum effect, douche using 1 part Tea Tree Therapy 15% Water Soluble Tea Tree Oil to 7 parts water prior to inserting suppository. May be repeated every other day for 6 days. Separate and peel back the two plastic strips at the bottom of the suppository to remove suppository. If suppository softens it can be placed in the refrigerator for a few minutes before opening plastic wrap.
Hydrogenated vegetable oil, Tea Tree Leaf Oil (Melaleuca alternifolia).
KEEP OUT OF REACH OF CHILDREN. If swallowed get medical help or contact a Poison Control Center immediately. If symptoms persist seek medical advice.
Store at room temperature (below 80°F/30°C) or in a cool place. Avoid storage in direct sunlight or heat.