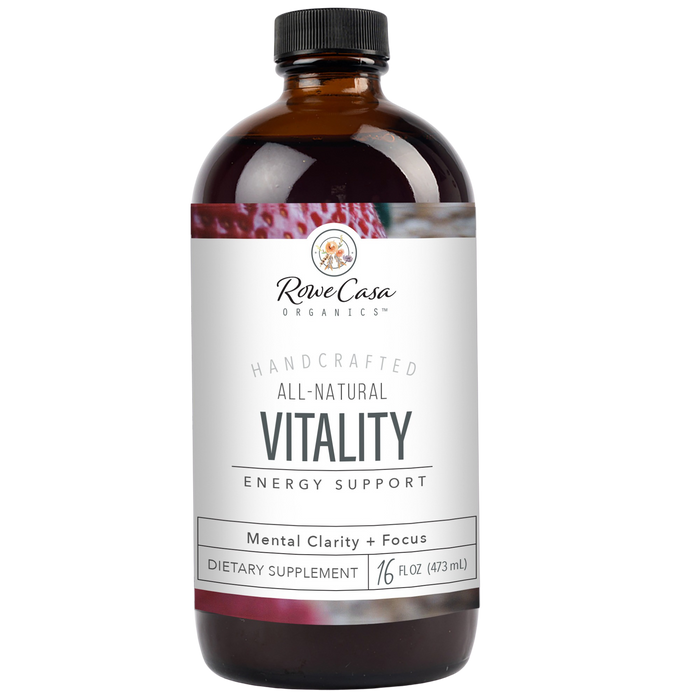 Vitality Energy Support 16oz
Boost your energy, focus, and daily performance by giving your body this energy supporting tonic!

If you regularly feel physically or mentally sluggish, this powerhouse energy blend can give your body the nutrients and fuel it needs to not only survive but also thrive. Instead of stressing out your adrenals from high amounts of caffeine, try supporting your body the natural way!
⚠️ Please Note: If you are pregnant or have heart disease, diabetes, or glaucoma, use caution when adding guarana to your diet.
TO USE: Shake well. Take 1–2 tablespoons daily. After opening, refrigerate and use within 2–3 months.
Caffeinated
INGREDIENTS:
 

PURIFIED WATER, ORGANIC STRAWBERRIES, ORGANIC LIPOSOMAL VITAMIN B-12, ORGANIC GUARANA EXTRACT, ORGANIC RHODIOLA EXTRACT, TAURINE, ORGANIC GREEN TEA EXTRACT, ORGANIC VITAMIN C (L-ASCORBIC ACID), ORGANIC LEMON JUICE, ORGANIC STEVIA.
*These statements have not been evaluated by the Food & Drug Administration (FDA) and are not intended to diagnose, treat, or cure any disease.
*Always check with your doctor before using a new product or supplement if you have any questions or concerns about how a product may affect your current health, medications, pregnancy, or breastfeeding.