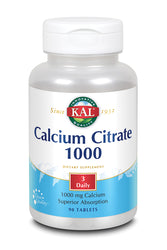 Calcium Citrate 1000
Save

$0.00
Save

$-12.00
Original Rental price
$12.00
-
Original Rental price
$12.00
Calcium provides critical structure in our body, and supplementation with KAL®️ Calcium
Citrate 1000 provides an easy way to help you get enough every day. If you already take
a multivitamin that includes calcium co-factors like Vitamins D & K, and Magnesium,
then it is easy to add this calcium supplement without doubling up on these nutrients.
Calcium Citrate 1000 contains calcium which is chelated with citric acid to help optimize
bioavailability for your added confidence in strong bones, teeth and cardiovascular
function.
• High potency • 1000 mg of calcium in 3 tablets
• Bioavailable • Calcium is reacted with citric acid to help bioavailability and utilization
• ActivTab technology • Guaranteed tablet disintegration within 30 minutes according to USP standards