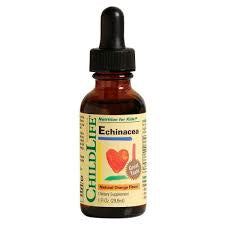 Child Life - Echinacea Orange - 1 oz.
Save

$0.00
Save

$-8.80
Original Rental price
$8.80
-
Original Rental price
$8.80
Echinacea Orange Flavor - 1 Oz.
Echinacea is known and respected as a primary immune stimulating and strengthening herb.Periodic use throughout the year may provide extra protection, and use at full suggested dosages for intensive use.
Health Tip When needed, use daily per the recommended dosages for up to 10 consecutive days. For ongoing support & maintenance, use at recommended dosage twice a week.
Immune Support
to be given when needed, to stimulate natural immune responses and defend the body. 

these formulas can also be used periodically for increasing immune support and strength.
About ChildLife Essentials:
ChildLife offers doctor-developed nutritional formulas you can trust, to help provide your infant or child with the best possible start in life.
Along with a healthful diet and careful nurturing, the ChildLife nutritional formulas will support your child through their formative years and help create a solid foundation for good health throughout life.Make ChildLife nutritional supplements a regular part of your child's daily routine.
ChildLife provides a complete line of nutritional supplements designed specifically for infants and children. Our experience with infants and children's healthcare is extensive.
Dr. Murray Clarke, who founded the company and developed the product line, has been specializing in pediatrics in his homeopathic and nutritional clinic for the past twenty years. The ChildLife Essentials line is literally the product of this experience. The ten products we offer are those, which have proven to be the most important, and the most effective in supporting healthy development and promoting natural immune strength in infants and children.
ChildLife Essentials are made from the highest quality natural ingredients. There are no artificial additives in any of our products. No artificial flavorings, no artificial sweeteners, and no added colorings. The great taste of the products makes taking nutritional supplements an easy part of a child's daily routine.
These products are sold in natural stores, health food stores and pharmacies throughout America. Internationally, they are distributed in Taiwan. Singapore, China, Philippines, Indonesia, Thailand, Ireland, Croatia, Poland, Romania and New Zealand.
Infants 6 months to 1 yr: 5 drops, 3x daily Children 1-12 yrs: 10 drops, 3x daily  
Can be mixed with juice or your child's favorite drink. 

Shake well before use. 

Store in a cool dry place.
Child Life Essentials - Echinacea Orange - 1 Oz.
Supplement Facts

Serving Size: 10 drops (0.5ml)
Servings Per Container: 60

 

Origins Extracts of:

Amount Per Serving
%DV*

 

Echinacea Purpurea (leaf & flower)

15 mg

*

 

Echinacea Angustifolia (root)

15 mg

*

 

*Daily Value Not Established. †Percent Daily Values are based on a 2,000 calorie diet. Your diet values may be higher or lower depending on your calorie needs.
Other Ingredients: Deionized Water, Glycerin, Fructose and Natural Orange Oil.
ChildLife uses only the highest quality ingredients. Contains no eggs, fish, milk, peanuts, shellfish, soy, tree nuts, or wheat. No corn, yeast or alcohol. No artificial colorings. No artificial sweeteners. Gluten and Casein free.
Keep out of reach of children.