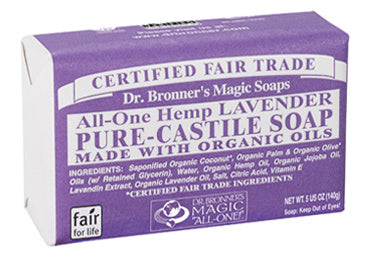 Dr. Bronner's - Organic Lavender Castile Bar Soap - 5 oz.
Save

$0.00
Save

$-4.20
Original Rental price
$4.20
-
Original Rental price
$4.20
Description
A relaxing fragrance for tired and stressed-out souls, Dr. Bronner's Lavender Castile Bar Soap calms the nerves and soothes the body. Perfect just before bedtime or to start off your day with a tranquil, peaceful mind. All soaps are certified organic under the USDA National Organic Program. All soaps are also certified Fair Trade. Wrapped in 10% hemp-flax/90% post-consumer recycled (PCR) paper.
Ingredients
Organic Coconut Oil*, Organic Palm Oil*, Sodium Hydroxide**, Water, Organic Olive Oil*, Lavandin Extract, Organic Hemp Oil, Organic Jojoba Oil, Lavender Extract, Sea Salt, Citric Acid, Tocopherol
*CERTIFIED FAIR TRADE INGREDIENTS
** None remains after saponifying oils into soap & glycerin.
Suggested Use
Completely biodegradable and vegetable-based, our Castile Bar Soaps are gentle and effective, perfect for washing body, face or hair. They are also very popular with DIY homemakers. For example, they can be grated to form part of a homemade powdered laundry detergent. Find that recipe and others on the Green Cleaning Board of our Pinterest page.