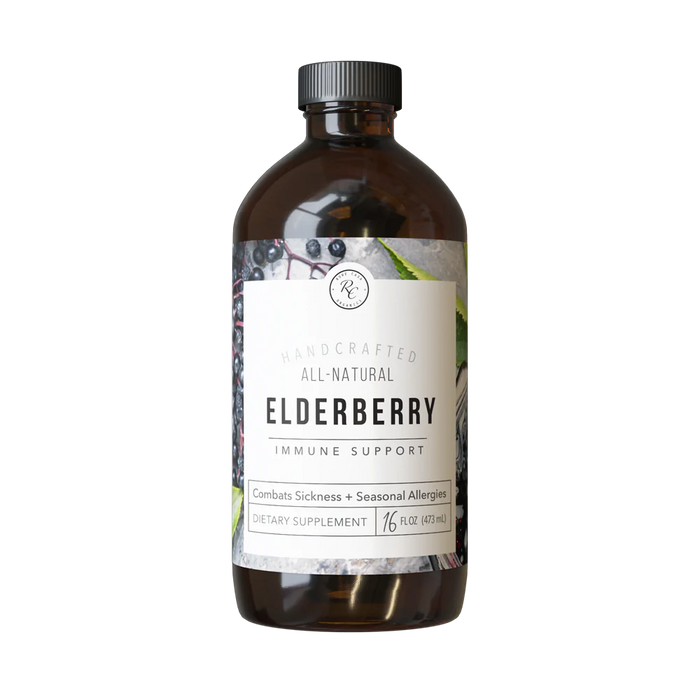 Elderberry Immune Support 16oz
Soothes inflammation:

 Elderberries are rich in antioxidants, such as flavanols and phenolic acids that reduce inflammation on the skin and muscles.



Packed with vitamin C:

 1 tablespoon of this elderberry syrup has 76% of your recommended daily intake.
Good source of fiber:

 A serving of elderberries has 25% of your daily intake of fiber, which can maintain bowel health and prevent constipation.
Soothes flu symptoms:

 Studies show that elderberries can soothe the symptoms of the flu or a cold, reducing headaches, fever, and nasal congestion.
Supports the immune system:

 Research demonstrates that elderberries have polyphenols, which boost the creation of white blood cells.
Boosts heart health:

 

Flavonoids in elderberries reduce cholesterol in blood vessels, lowering blood pressure and risk of heart disease.
The elderberry is an ancient remedy, used by the Egyptians to soothe many health conditions and as a skincare face mask.
In fact, Hippocrates, the Greek scholar known as the father of medicine, used to call elderberries his "medicine chest", a remedy for many ailments.
1 - 2 tablespoons a day of this all-natural elderberry syrup made with organic ingredients can reduce inflammation in the joints, muscles, and skin.
And if you want your kids to grow up healthy, nothing beats a daily supplement rich in vitamin C, fiber, and immune-boosting properties.
Elderberries are a traditional medicine proven by research to boost the immune system and reduce inflammation thanks to their antioxidants.
Buy this elderberry immune support tonic and administer a spoonful (or two) a day to your family for an overall boost in health.
*These statements have not been evaluated by the Food & Drug Administration (FDA) and are not intended to diagnose, treat, or cure any disease.
*Always check with your doctor before using a new product or supplement if you have any questions or concerns about how a product may affect your current health, medications, pregnancy, or breastfeeding.




REGULAR ELDERBERRY
INGREDIENTS:

 

PURIFIED WATER, ORGANIC DRIED ELDERBERRIES, RAW HONEY, ORGANIC LEMON JUICE, ORGANIC GINGER ROOT POWDER, ORGANIC VITAMIN C (L-ASCORBIC ACID), ORGANIC CINNAMON POWDER, ORGANIC CLOVE POWDER