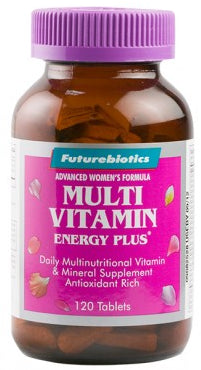 Futurebiotics Multi Vitamin Energy Plus for Women, 60 Tablets
Save

$0.00
Save

$-10.40
Original Rental price
$10.40
-
Original Rental price
$10.40
Description
Advanced Women's Formula

Daily Multinutritional Vitamin & Mineral Supplement Antioxidant Rich

Dietary Supplement

100% Satisfaction Guaranteed
Comprehensive Formula for Women's Complete Nutrition
Daily, multi-nutritional supplement with antioxidant support

Energy Plus blend supports an active lifestyle without  stimulants

Stress support with a full complement of B vitamins
If the multivitamin you take every morning doesn't enhance  the way you feel, you might not be taking the right multivitamin. Today's women  may be eating on the run, dieting, taking hormones, and coping with all kinds  of modern-day stress, which can result in great demands on the body and mind.  Futurebiotics Multi Vitamin Energy Plus is a daily multi-nutritional formula  designed for women that provides vitamins, minerals and important other  nutrients all in one energizing and highly potent state-of-the-art supplement.
Multi Vitamin Energy Plus for Women is the definitive  women's multi-vitamin and mineral supplement, containing over 100% of the  recommended daily value of most nutrients per daily dose, including a whopping  625 mg of Calcium, plus Iron and Zinc. Antioxidant support is provided by  vitamins A, C and E plus Selenium.
The Energy Plus blend in Multi-Vitamin Energy Plus supports  an active lifestyle without stimulants. This unique blend of botanicals,  including American Ginseng, Alfalfa juice concentrate, Chlorella and Bee Pollen  helps promote energy without causing the "jitters" or a  "crash" sensation as the day goes on.
Multi Vitamin Energy Plus provides a full complement of B  vitamins for stress support. B vitamins burn off quickly during periods of  stress, which can impact adrenals and immune cells and increase susceptibility  to illness. Research has also shown that vitamins B6 and B12 along with Folic  Acid may support heart health by helping to reduce blood levels of  homocysteine.
Glass packaging extends natural freshness and helps maintain  product potency.
Suggested Use
As a dietary supplement for adults, take 2 tablets daily with meals or as directed by a healthcare professional.
Other Ingredients
Croscarmellose sodium, stearic acid, aqueous tablet coating (hydroxypropyl methylcellulose, polyethylene glycol), magnesium stearate, silica.
Contain Soy.
Contains no added wheat, gluten, dairy, salt, starch, artificial color or preservatives.
Warnings
Accidental overdose of iron-containing product is a leading cause of fatal poisoning in children under 6. Keep this product out of reach of children. In case of accidental overdose, call a doctor or poison control center immediately.
Caution: Be Pollen is known to cause allergic reactions in certain allergy-prone individuals. If you are susceptible to bee or pollen-type allergies, please use caution when taking this product.
Do not use if you are pregnant or nursing.