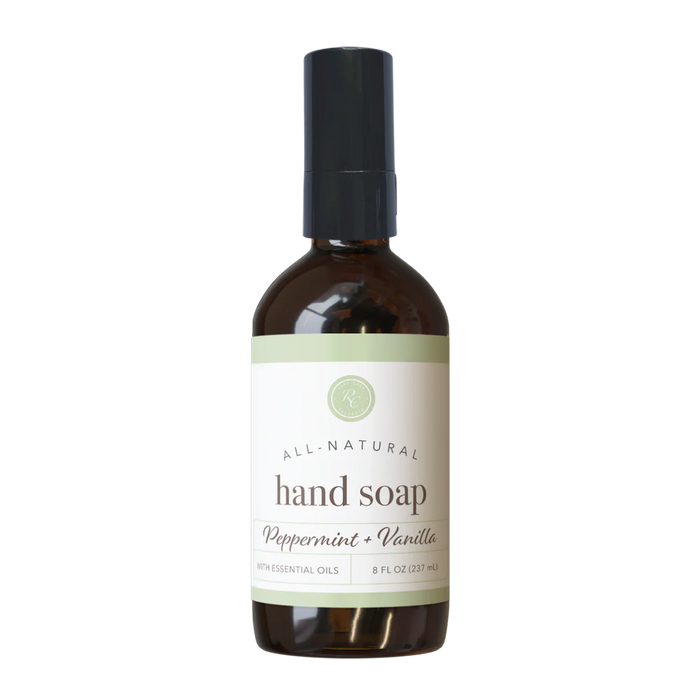 HAND SOAP PEPPERMINT + VANILLA 8 OZ
Since frequent handwashing is especially imperative these days, it also means it's time to choose the best hand soaps available for you and your family. So many standard brand hand soaps are full of chemicals, causing dryness and other health concerns.
We have a solution! You'll love our one-of-a-kind, super effective, foaming hand soaps handcrafted just for you! Colloidal silver combines with our therapeutic grade essential oils to get your hands truly clean and silky soft – without any chemical fillers. You will want one of these beauties at every sink!
TO USE: Lather 1-2 pumps into wet hands, rub vigorously for 20 seconds, rinse well with water.
PEPPERMINT + VANILLA
INGREDIENTS: PEPPERMINT CASTILE SOAP, DISTILLED WATER, COLLOIDAL SILVER, ORGANIC VEGETABLE GLYCERIN, ORGANIC GRAPESEED OIL, 100% PURE THERAPEUTIC GRADE ESSENTIAL OILS: ORANGE, VANILLA, PEPPERMINT.