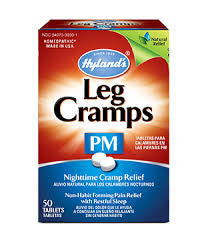 Hyland's Leg Cramps PM, 50 Tablets
Save

$0.00
Save

$-14.20
Original Rental price
$14.20
-
Original Rental price
$14.20
How wonderful would it be to have a full night of rest without having your legs wake you up? Leg cramps steal valuable hours of sleep. Hyland's has created a product that provides pain relief for cramps in your legs, feet and toes so you can get a good night's rest.*  No more waking up in pain and wishing for relief. You've found it here with Hyland's.
• Experience Natural, Safe and Effective nighttime pain relief – and wake up refreshed
• Unique sleep formula helps you fall asleep and get back to sleep after being woken by cramps during the night
• Convenient/Pleasant to take; quick-dissolving tablets that work fast!
• Non-habit forming, Free of adverse side-effects or drug contraindications
• No Aspirin, Acetaminophen, Ibuprofen, Naproxen or Diphenhydramine
Directions: Adults and Children 12 years and over: Take 1-3 tablets before bed to help you fall asleep, stay asleep and relieve leg cramps. After being woken by cramps: Take 1-2 tablets to relieve pain and help you get back to sleep
Active Ingredients | Purposes:
Calcarea Carbonica 12X HPUS: cramps in legs, calves, feet and toes
Causticum 12X HPUS: nocturnal sleeplessness
Chamomilla 6X HPUS: leg cramps and pain at night
Cinchona Officinalis 3X HPUS: disturbed sleep, pain in limbs at night
Cuprum Metallicum 12X HPUS: cramps of limbs, charley horse cramps
Lycopodium 12X HPUS: disturbed, restless sleep; cramps and contraction of limbs
Magnesia Phosphorica 6X HPUS: wakeful and sleeplessness, cramps in legs
Rhus Toxicodendron 6X HPUS: charley horse cramps in thighs and calves at night
Silicea 12X HPUS: not being able to sleep again after waking
Sulphur 6X HPUS: sleeplessness, frequent waking during night
Inactive Ingredient: Lactose NF
Warnings:
As with any drug, ask a doctor before use if:
• You are pregnant or nursing a baby
• Sensitive to quinine
• Under 12 years of age
Keep this and all medications out of the reach of children.
Do not use if imprinted tamper band is broken or missing.
In case of accidental overdose, contact a poison control center immediately.
* The uses for our products are based on traditional homeopathic practice. They have not been reviewed by the Food and Drug Administration.