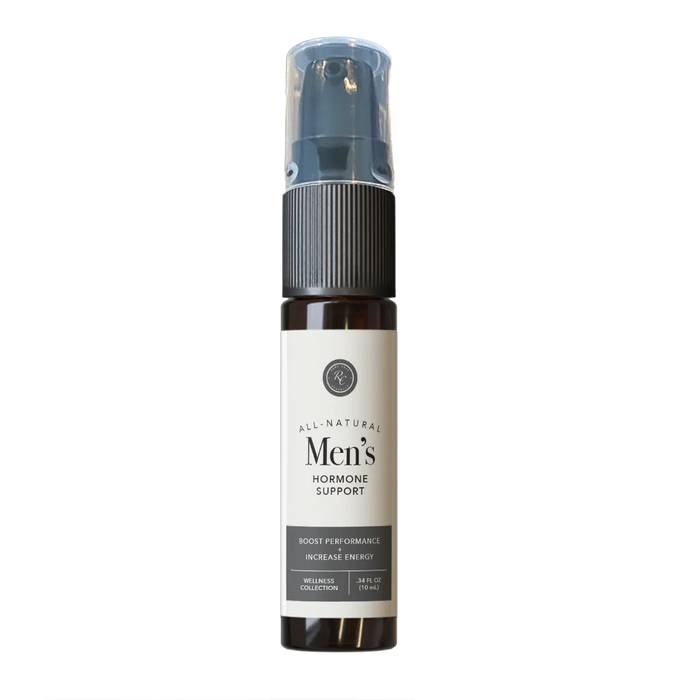 MEN'S HORMONE SUPPORT | 10 ml
Boost performance and increase energy and stamina naturally. This blend helps men maintain healthy levels of testosterone and balance supporting hormones needed for them to be their strongest self.
Signs of low testosterone and hormonal imbalance are low energy, inability to build muscle, belly fat, depression, erectile dysfunction, poor metabolism, & low stamina.
TO USE: Apply 1 pump to inner wrists or forearms once daily.


INGREDIENTS:

 

ORGANIC AVOCADO OIL, 100% PURE THERAPEUTIC GRADE ESSENTIAL OILS: FRANKINCENSE, SANDALWOOD, VETIVER, CLARY SAGE, BLACK SPRUCE, MYRTLE, YLANG YLANG, ROSEMARY, BASIL, LAVENDER, PEPPERMINT, GINGER, CINNAMON, THYME, GERANIUM.
*Always check with your doctor before using a new product or supplement if you have any questions or concerns about how a product may affect your current health, medications, pregnancy, or breastfeeding.