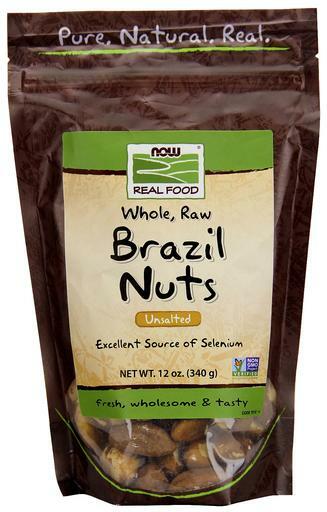 NOW Brazil Nuts, Raw, 12oz
Sold out
Original Rental price
$9.60
-
Original Rental price
$9.60
Brazil Nuts may not be as popular as other nuts, but don't be fooled – these little fellas are packed with just as much nutrition. Native to the Amazonian rain forests of South America, Brazil Nuts are one of the richest known natural food sources of selenium, an important dietary mineral. They're also an excellent source of magnesium.
Whole, Raw
Unsalted
Excellent Source of Selenium
Fresh, Wholesome & Tasty
Suggested Usage: NOW Real Food™ Brazil Nuts have a uniquely rich, appealing flavor, and they're often used as a substitute for macadamia nuts and even coconut in recipes. Mix them with other nuts for a nutrient-dense and deliciously healthy snack.
Other Ingredients: 100% Brazil Nuts. (May contain traces of other tree nuts)
Refrigeration Recommended after opening.
Fresher ingredients simply taste better, which is why this product is packaged using NOW Fresh Fill Technology, a natural blend of carbon dioxide and nitrogen that displaces oxygen in the bag to maximize flavor and freshness.
Vegetarian/Vegan Product.