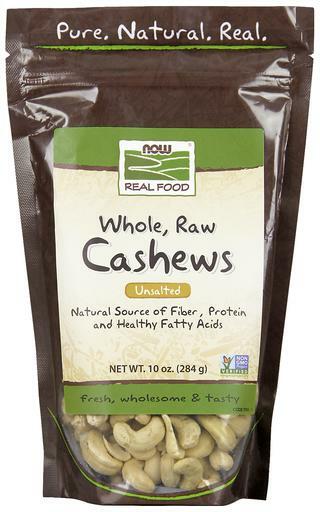 NOW Cashews, Raw, 10oz
Sold out
Original Rental price
$6.80
-
Original Rental price
$6.80
NOW Real Food™ Cashews have a rich, buttery, nutty flavor that makes them one of the most enjoyable nuts to eat raw. They're also a great addition to many desserts and appetizers and make a savory crust for chicken and seafood dishes as well.
As with most nuts, Cashews are a good natural source of protein (up to five grams of protein per ounce). They're also a good source of fiber and iron. Nature's blessings indeed!
Whole, Raw
Unsalted
Natural Source of Fiber, Protein and Healthy Fatty Acids
Fresh, Wholesome & Tasty
Fresher ingredients simply taste better, which is why this product is packaged using NOW Fresh Fill Technology, a natural blend of carbon dioxide and nitrogen that displaces oxygen in the bag to maximize flavor and freshness.
Vegetarian / Vegan Product.
Refrigeration Recommended after opening.