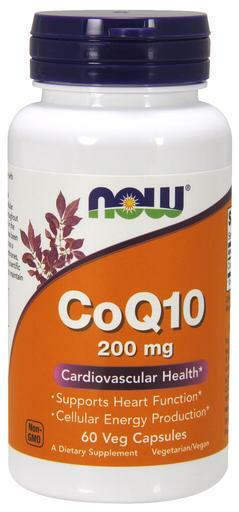 NOW - CoQ10 200 mg, 60 Vcaps
Save

$0.00
Save

$-30.40
Original Rental price
$30.40
-
Original Rental price
$30.40
CoQ10 (Co-enzyme Q10) is a vitamin-like compound also known as ubiquinone.

Ubiquinone combines two terms to describe this substance —quinone is a type of coenzyme and ubiquitous indicates it exists everywhere in the human body.

CoQ10 plays an important role in the body""s energy production and is an essential component of the mitochondria, where it helps to metabolize fats and carbohydrates and maintain cell membrane flexibility.

CoQ10 is also involved in the production of several key enzymes that are used to create ATP (Adenosine triphosphate), a key energy storage molecule.

Without CoQ10, you would not be alive.

CoQ10 is also an effective antioxidant that may beneficially affect the aging process.

As we age, our body""s production of CoQ10 declines by as much as 80%. Because it is so important to energy production, and therefore life, researchers believe that this decline may be a factor in the effects of aging on the human body.

The highest levels of CoQ10 are found in tissues in the body that work the hardest; like the heart, the liver, etc. Initial studies into CoQ10 found that persons with cardiac insufficiencies had very low levels of CoQ10, and that supplementation increased CoQ10 levels.

So CoQ10 is not only an effective antioxidant, but it supports cardiovascular health as well.

Contains no:  sugar, salt, starch, yeast, wheat, gluten, corn, soy, milk, egg, shellfish or preservatives. 

Vegetarian/Vegan Product.

NOW® CoQ10 is Pharmaceutical Grade. 

NOW uses only the natural, all-trans form of CoQ10 produced by fermentation.

Vcaps® is a registered trademark of Capsugel.

Do Not Eat Freshness Packet. 

Keep in Bottle.

Store in a cool, dry place. 

Please Recycle.