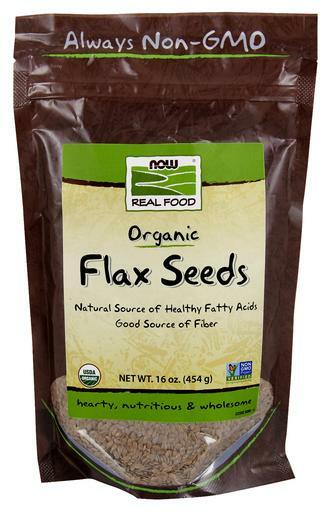 NOW Flax Seeds, Certified Organic, 16 oz.
Sold out
Original Rental price
$4.80
-
Original Rental price
$4.80
NOW Real Food® Organic Flax Seeds have a mild, nutty flavor similar to wheat germ, and they're often added to cereals, pancakes, muffins, breads, meatloaf, meatballs, and even yogurt. Flax is a natural plant source of healthy fatty acids and a good source of fiber.
Suggested Usage: Due to its fiber content, Flax should be consumed with plenty of water.
Ingredients:  Organic Flax Seeds.
Naturally occurring fatty acids (example)
(per serving)**
Omega-3 Fatty Acids (Alpha Linolenic Acid)
4.0 g (4,000 mg)
Omega-6 Fatty Acids (Linolenic Acid)
1.2 g (1,200 mg)
Omega-9 Fatty Acids (Oleic Acid)
1.5 g (1,500 mg)
**subject to natural variability
Fresher ingredients simply taste better, which is why this product is packaged using NOW Fresh Fill Technology, a natural blend of carbon dioxide and nitrogen that displaces oxygen in the bag to maximize flavor and freshness.
Because you are what you eat, NOW Real Food® has been committed to providing delicious, healthy, natural and organic foods since 1968. We're independent, family owned, and proud of it. Keep it natural. Keep it real.
Certified Organic by QAI.
Vegetarian/Vegan Product.