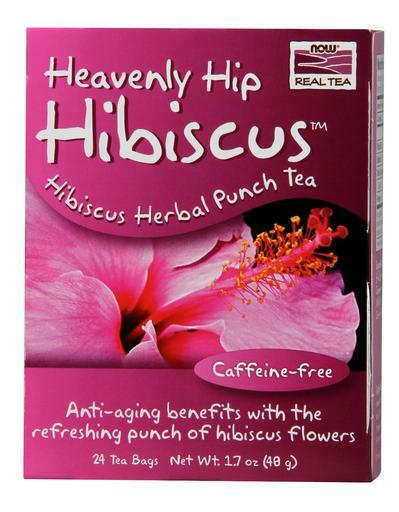 NOW Heavenly Hip Hibiscus™ Tea, Box of 24 Bags
Sold out
Original Rental price
$4.00
-
Original Rental price
$4.00
Okay, so you can't relive your youth, but you can stay young. Heavenly Hip Hibiscus gets its mojo from the naturally occurring beneficial compounds found in hibiscus flowers. Whether enjoyed hot or cold, this special blend has a refreshing taste that is sure to leave you feeling groovy.
Instructions: Steep one tea bag in 6-8 ounces of water that has just started to boil, for 3-4 minutes. Stir occasionally while steeping. To make refreshing ice tea, brew first with hot water, let cool, then add ice.
Ingredients:  Hibiscus Flowers, Rose Hips (Fruit), Lemongrass Leaves, Spearmint Leaves, Cinnamon Bark (Cinnamomum burmannii), Wild Cherry Bark, Orange Peel, Natural Cherry Flavor, BetterStevia™ organic stevia extract (leaf).
Contains Lemongrass. Consult physician if pregnant or nursing.
Premium unbleached tea bags with our no-staples design.
Contains no artificial colors, flavors, preservatives, or sugars.