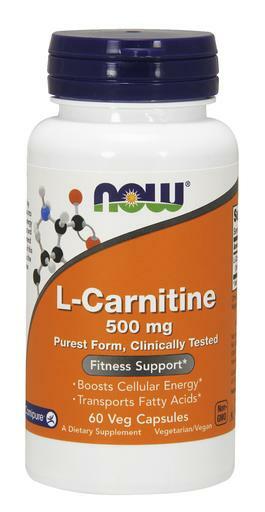 NOW - L-Carnitine 500 mg, 60 VCaps
Sold out
Original Rental price
$20.80
-
Original Rental price
$20.80
L-Carnitine is a non-essential amino acid that helps to maintain overall good health by facilitating the transfer of fatty acid groups into the mitochondrial membrane for cellular energy production.*It naturally occurs in red meat and other animal source foods, but we recommend supplementation to obtain optimal levels of this excellent amino acid.
Purest Form, Clinically Tested
Transports Fatty Acids
Boosts Cellular Energy*
A Dietary Supplement
Vegetarian Formula
NOW® L-Carnitine is the purest form, clinically tested, and vegetarian (non-animal sourced).
SUGGESTED USE: As a dietary supplement, take 1 capsule 1 to 3 times a day with or without food. 
Contains no: sugar, salt, starch, yeast, wheat, gluten, corn, soy, milk, egg, shellfish or preservatives.
Vegetarian/Vegan Product. Do Not Eat Freshness Packet. Keep in Bottle.
Pure L-Carnitine is an amino acid that normally attracts water which can cause it to deteriorate rapidly.
We use a tartrate form to help ensure that this product maintains stability and full potency.
Carnipure™ offers purest L-Carnitine and is a trademark of Lonza, Ltd., Switzerland.
Vcaps® is a registered trademark of Capsugel. Store in a cool, dry place. Please Recycle.
* This statement has not been evaluated by the Food & Drug Administration. This product is not intended to diagnose, treat, cure or prevent any disease.