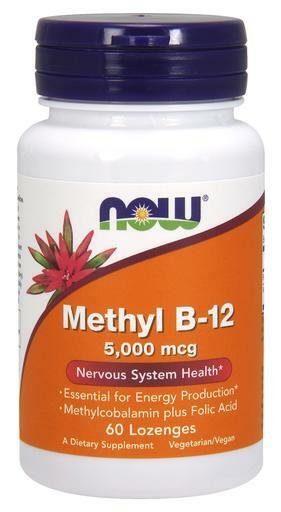 NOW - Methyl B-12, 5,000 mcg, 60 Lozenges
Save

$0.00
Save

$-20.80
Original Rental price
$20.80
-
Original Rental price
$20.80
Vitamin B-12 is a water soluble vitamin necessary for the maintenance of a healthy nervous system and for the metabolic utilization of fats and proteins. Vitamin B-12 is also essential for the synthesis of DNA during cell division and therefore is especially important for rapidly multiplying cells such as blood cells. In addition, adequate intake of Vitamin B-12, along with Folic Acid and Vitamin B-6, encourages healthy serum homocysteine levels, thereby supporting cardiovascular health. Because Vitamin B-12 is found predominantly in animal products, strict vegetarians are at risk of developing Vitamin B-12 deficiency and may benefit from supplementation.*
Methylcobalamin is the co-enzyme form of Vitamin B-12 that has been found to be especially critical in the maintenance of a healthy nervous system.* Dietary sources are almost exclusively of animal origin (meat and dairy) and supplementation with B-12 may be especially important for strict vegetarians.

NOW® Vitamin B-12 is vegetarian/vegan (non-animal derived).
Suggested Usage: Take 1 lozenge daily. Chew lozenge or hold in mouth until dissolved and swallow.
Other ingredients: Fructose, Sorbitol, Cellulose, Citric Acid, Stearic Acid (vegetable source), Natural Flavors and Magnesium Stearate (vegetable source).
Contains no: salt, yeast, wheat, gluten, soy, milk, egg or shellfish.
Vegetarian/Vegan Product.
Do Not Eat Freshness Packet. Keep in Bottle.
Store in a cool, dry place.
Please Recycle.
*This statement has not been evaluated by the Food & Drug Administration. This product is not intended to diagnose, treat, cure or prevent any disease.