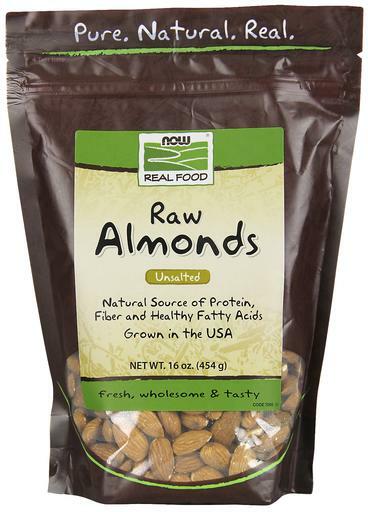 NOW Raw Almonds, 16 oz.
Sold out
Original Rental price
$6.40
-
Original Rental price
$6.40
It's hard to beat the satisfying crunch and flavor of NOW Real Food® Almonds. There's so much you can do with Almonds - roast them for snacking, chop them up for a healthy addition to your favorite recipe, or just eat them right out of the bag.
And like many other nuts, almonds are bursting with nutrition. They're a natural source of protein, fiber and healthy fatty acids. In fact, Almonds may be the most nutrient-rich tree nut of them all. Adding Almonds to you and your family's diet is a smart and tasty move that can pay dividends for life.
Natural Source of Protein, Fiber and Healthy Fatty Acids
Grown in the USA
Fresh, Wholesome & Tasty
Ingredients: Almonds
Scientific evidence suggests but does not prove that eating 1.5 ounces per day of most nuts, such as Almonds, as part of a diet low in saturated fat and cholesterol may reduce the risk of heart disease.
Fresher ingredients simply taste better, which is why this product is packaged using NOW Fresh Fill Technology to maximize flavor and freshness.
Because you are what you eat, NOW Real Food® has been committed to providing delicious, healthy, natural foods since 1968. We're independent, family owned, and proud of it. Keep it natural. Keep it real.
Refrigeration recommended after opening.
Vegetarian/Vegan Product.