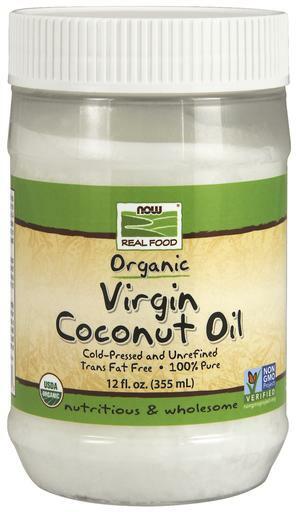 NOW Virgin Coconut Oil, Certified Organic
Sold out
Original Rental price
$9.60
-
Original Rental price
$21.60
NOW® Organic Virgin Coconut Oil is a high grade, unrefined premium nutritional edible oil obtained from the first cold pressing of organic coconut (Cocos nucifera) kernels. Virgin Coconut Oil is naturally trans-fatty acid free and has naturally occurring medium chain triglycerides (MCT). This oil typically has the following beneficial fatty acids per serving (natural variation may occur): Lauric Acid 6.5 g, Myristic Acid 2.4 g, Caprylic Acid 1.0 g, Capric Acid 800 mg, Oleic Acid 800 mg and Linoleic Acid 200 mg.
NOW Real Food® Organic Virgin Coconut Oil tastes and smells so good, and is so healthful and versatile, nothing else is needed to enjoy the fantastic benets of this premium-grade nutritional oil. A cold press method is used to preserve the medium chain triglycerides (MCTs) and benecial fatty acids naturally found in coconuts. This produces an unrened oil that's free of trans fats and bursting with goodness and flavor. Our Organic Virgin Coconut Oil is delicious on its own and makes an excellent addition to recipes. Use it for cooking and baking in place of less healthy cooking oils or add it to your favorite smoothie. Use it as a spread on your favorite breads and mufns or add a subtle hint of tropical sweetness to your popcorn.
Storage Guidance: Store in a cool, dry and dark environment in tightly sealed original container. After opening, product can be refrigerated or stored at cool room  temperature. Virgin Coconut Oil naturally has a highly variable composition. At temperatures below 78° the product will begin to solidify and clumps may appear. Bubbles may also appear, and may resemble dark spots. However, both are normal. No additives or preservatives are used. Pure and natural.