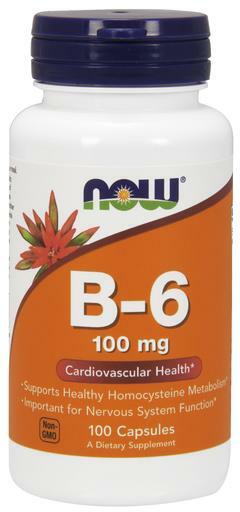 NOW - Vitamin B6, 100mg, 100 Capsules
Save

$0.00
Save

$-7.20
Original Rental price
$7.20
-
Original Rental price
$7.20
Vitamin B-6 is one of the more popular members of the B-vitamin family and is found in fresh vegetables. Clinical studies have shown that B-6 plays an important role in regulating homocysteine levels in the body. Homocysteine is produced as a by-product of the demethylation of methionine and can be toxic in elevated amounts.* NOW's Vitamin B-6 is screened for potency and purity.
From the FDA's website: "As part of a well-balanced diet that is low in saturated fat and cholesterol, Vitamin B6 may reduce the risk of vascular disease. FDA evaluated the above claim and found that, while it is known that diets low in saturated fat and cholesterol reduce the risk of heart disease and other vascular diseases, the evidence in support of the above claim is inconclusive."
Vitamin B-6 is a cofactor in numerous enzymatic reactions and is required for the metabolism of fats, carbohydrates, and proteins.* It facilitates the conversion of amino acids from one to another as needed, and is necessary for normal synthesis of hemoglobin, as well as for normal function and production of red blood cells.* B-6 plays an important role in regulating homocysteine metabolism in the body.* Homocysteine, a by-product of the methionine cycle, is known to be destructive to bodily tissues, especially vascular structures. B-6 is also critical for the maintenance of a healthy nervous system.*
Suggested Usage: Take 1 capsule daily with a meal
Contains no sugar, salt, yeast, wheat, gluten, corn, soy, milk, egg, shellfish or preservatives.
Store in a cool, dry place.
Caution: Do not exceed the recommended dose. For adults only.
Consult physician if pregnant/nursing, taking medication, or have a medical condition.
Keep out of reach of children.
Please Recycle.
*This statement has not been evaluated by the Food & Drug Administration. This product is not intended to diagnose, treat, cure or prevent any disease.