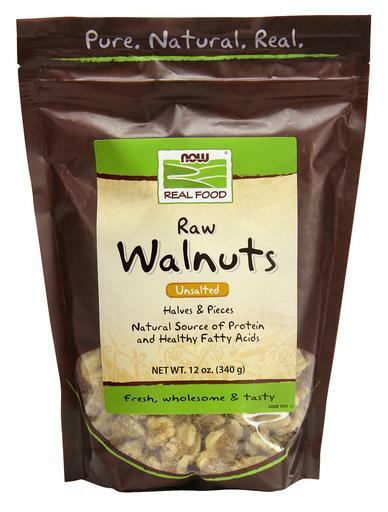 NOW Walnuts, Raw, 12oz
Sold out
Original Rental price
$5.60
-
Original Rental price
$5.60
There are a lot of nuts out there these days, but none as enjoyably edible as Walnuts. They're used in more cooked foods than perhaps any other nut in the world, making an excellent addition to salads, casseroles, desserts, breakfast foods, and more, and are just as good eaten raw, roasted, or toasted.
Aside from their culinary popularity, Walnuts are an excellent source of nutrition, providing healthy fatty acids. Just like their nutty cousins, they're also a good source of protein. Adding NOW Real Food™ Walnuts to your diet is a tasty and nutritious way to improve your health and well-being without going nuts.
Raw, Unsalted
Halves & Pieces
Natural Source of Protein and Healthy Fatty Acids
Supportive but not conclusive research shows that eating 1.5 ounces per day of walnuts, as part of a low saturated fat and low cholesterol diet and not resulting in increased caloric intake, may reduce the risk of coronary heart disease. See nutrition information for fat and calorie content.
Fresher ingredients simply taste better, which is why this product is packaged using NOW Fresh Fill Technology, a natural blend of carbon dioxide and nitrogen that displaces oxygen in the bag to maximize flavor and freshness.
Vegetarian / Vegan Product.
Refrigerate Recommended after opening.