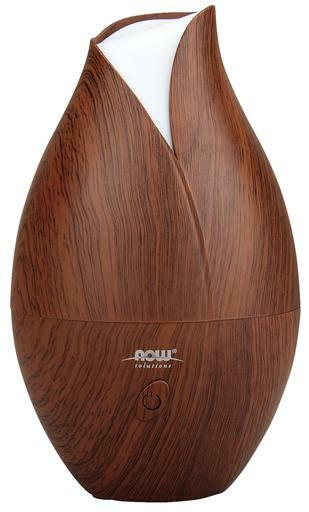 Now Wooden Ultrasonic Oil Diffuser
Sold out
Original Rental price
$40.00
-
Original Rental price
$40.00
Advanced Ultrasonic Atomization Technology
Stylish Design With LED Color Changing Night Light
8½" H x 5" W
No Heat Involved/No Risk of Burns
Just Add Tap Water and Essential Oils
Runs Cool Steam Up To 8 Hours
Automatically Shuts Off
2-in-1 Mini Air Humidifier Which Can Also Be Used For Aromatherapy
Revolutionary Way To Create Soothing and Therapeutic Atmosphere
Great For Home or Office
BPA-Free
Extremely Quiet
Easy to Clean
NOW® Solutions Wooden Ultrasonic Oil Diffuser unites scientific innovation with contemporary design to create an essential oil diffuser that's the perfect complement to your home or office. This attractive, flower-shaped diffuser is BPA-free and utilizes high-frequency ultrasonic electrical vibrations to create an ultra-fine aromatherapy mist. This diffusion method doesn't utilize heat, which maintains essential oil integrity and holistic properties. NOW® Solutions Wooden Ultrasonic Oil Diffuser is perfect for daily use and is a healthy alternative to synthetic room fresheners and scented candles.
Suggested Usage: Just add 500 ml/17 fl. oz. of water and five drops of your favorite essential oils and enjoy. Add more drops for a stronger aroma. Diffuses up to eight hours then shuts off automatically.
Aromatherapy & Essential Oils
NOW® Solutions' essential oils are genuine reflections of the botanicals from which they're born. Our wide array of essential oils is comprised of 100% pure and natural extracts teeming with beneficial substances possessing functional groups that when properly diffused, can encourage wellness, tranquility and inspire minds.
Aromatherapy is the diffusion of pure, natural aromatic essences from plants and botanicals for the purpose of promoting harmony of the body, mind, and spirity. It's a natural technique that's non-invasive yet all-encompassing in its ability to affect the well-being of the whole person through the use of one of our most powerful senses -- the sense of smell.
Aromatherapy works through two different methods of action. The first is through the effect of aromas on the brain, which work through the olfactory system to affect the limbic system. The second is through the direct effects of the beneficial substances naturally inherent in the botanicals that essential oils are derived from. Aromatherapy is not intended as a cure for any ailment. Rather, it helps to promote homeostasis, possibly through indirect effects on the immune system and by improving the mental state of the user.
The science of producing essential oils has evolved significantly over the years. These days producing an essential oil that's highly concentrated, identity verified, and beneficial is a craft that involves a delicate balance of art and science that cannot be compromised. Fresh botanicals bursting with vitality, strict attention to detail, and meticulous extraction methods are what separate the elite essential oils from the run-of-the-mill natural and synthetic oils you'll find on the market today. At NOW® Solutions we take the quality and safety of our oils very seriously, and we take great pride in ensuring that every oil we produce is brought to you in a manner that's scientifically and environmentally responsible.
Specifications
Color - Wooden Cover and White Water Tank
LED Lights - Color Changing Night Light: Blue, Green, Red
Modes Misting - Misting - On/Off
Modes Light - Off or Color Changing Night Light
Capacity - 500 ML / 17 FL OZ
Dimensions: 8½" High x 5" Wide
Run Time - Up to 8 Hours
Coverage - 400 Square Feet
Voltage - 100 to 240 V