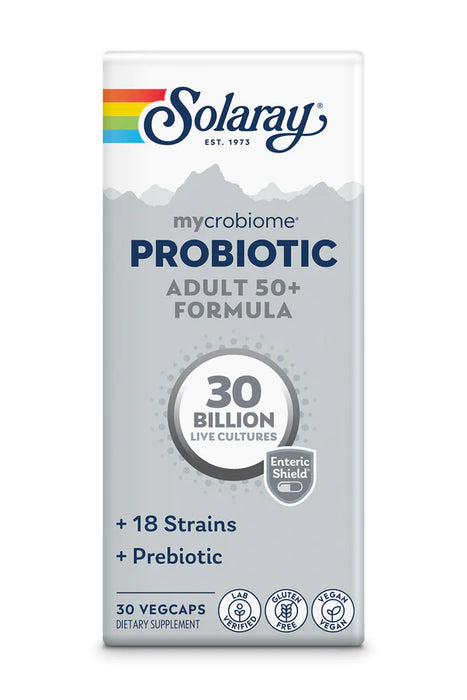 Solaray - Mycrobiome Probiotic Adult 50+, 30 Billion, 18 Strain Once Daily
Save

$0.00
Save

$-29.00
Original Rental price
$29.00
-
Original Rental price
$29.00
Mycrobiome Probiotic Adult 50+ One Daily, Veg Cap (Btl-Plastic) 30bil 30ct
- 18 Strain, 30 Billion Probiotic Formula for Adults 50+ with Enteric Shield
- Supports: Colon Health, Urinary Tract, Mental Wellbeing, Energy Levels
- Non-GMO, Vegan, Gluten Free, Soy Free, USA Made, Keep Refrigerated
After 50, supporting your microbiome is more important than ever. The right balance of flora in your digestive tract means trillions of good bacteria are hard at work helping digest nutrients and support your immune system, energy and mood -- all essential for healthy aging.

Solaray proudly brings you the gold standard in targeted probiotics. Uniquely formulated Mycrobiome' Probiotic Adult 50+ supports healthy colon and digestive function, urinary tract health, sustained energy and a healthy immune system. With 30 billion CFU of 18 probiotic strains, plus prebiotic inulin, this carefully designed formula is perfect for both women and men as they age.

Our enteric-coated capsules are designed to help live cultures survive stomach acids and arrive at the intestines, where they may be easily absorbed. Plus Mycrobiome' is freeze dried to protect fragile probiotics during short periods of unrefrigerated shipping, part of the Solaray's commitment to quality supplements that Let Your Best Self Shine!