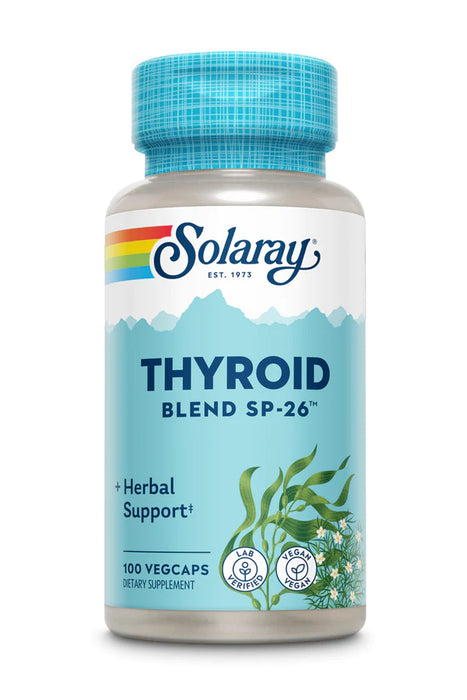 Solaray Thyroid Blend SP-26 100vcap
Save

$0.00
Save

$-12.00
Original Rental price
$12.00
-
Original Rental price
$12.00
A sluggish thyroid can drag you down fast. Keep it vibrant, bright, and energized with this powerful nutrient blast.
Involved in your ability to burn energy for food, your thyroid can affect nearly every process in your body, including your metabolism, heart, brain, muscle, and digestive functions. Solaray Thyroid Blend SP-26 is formulated to help this shiny little gland do its impressive work.
Special homeopathic cell salts are designed to work synergistically with our proprietary blend of kelp, Irish moss, eleuthero, gentian, fenugreek and cayenne, herbs rich in nutrients like iodine, which can be used in the production of thyroid hormones. 
From energy and stamina to mental focus to a balanced mood, a healthier thyroid means a healthier, more radiant you. Thyroid Blend SP-26 is non-GMO, vegan, and made with high-quality ingredients for you to Live Brighter. 
-Formula may help support healthy thyroid function and energy levels, including herbs Kelp and Irish Moss
-Other ingredients: relevant combination of cell salt nutrients
-Non-GMO, Vegan